These days, it is almost unheard of for a home or an office building to not have a proper heating and air conditioning system. Nobody wants to be uncomfortably warm or cold. The systems that keep you and your family warm during the winter and cool in the summer are complicated and require regular attention and care. HVAC maintenance is crucial to keeping these systems working properly. It may be easy to let HVAC service slip your mind, but it can save you a lot of money in the long run, and keep you and your family safe and comfortable.
HVAC Preventative Maintenance
So how exactly do you benefit from heating maintenance and AC maintenance services? One of the biggest mistakes that a homeowner can make is not scheduling routine HVAC maintenance. The results may not be tangible, but an HVAC tune-up can make big differences in your life.
Your heating and cooling system is most likely being used each and every day. It is made up of moving parts, and eventually, moving parts break. Moving parts also require lubrication. If the inner workings of your unit are not working correctly, it can lead to safety issues. The most common cause of carbon monoxide leaks is a cracked or failed heat exchanger. In the winter, if your unit is faulty it can lead to frozen or burst pipes and water damage. A short circuit could also develop, which is a serious fire hazard.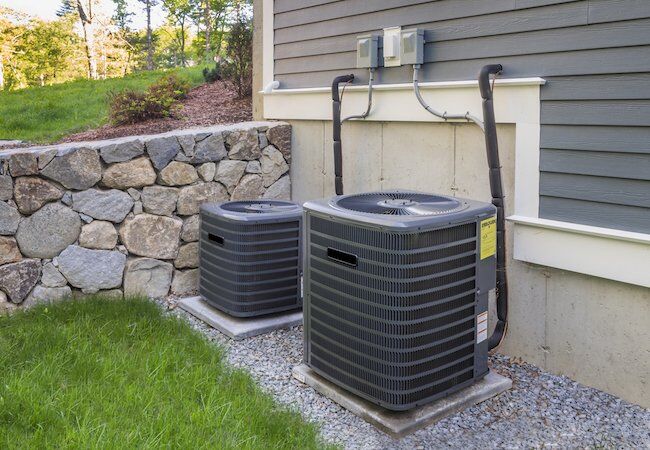 Most people like to save money here and there when they can. By getting home air conditioning service, you can reduce your monthly electric bill. If your ac unit is dirty or unmaintained, research shows that it has to work about 20% harder to produce the same amount of cooling as it normally would when cleaned and well-maintained. Low refrigerant levels or dirty air conditioner coils can cause ice or frost to form on the unit, which could lead to major damage. A simple air conditioner cleaning places less stress on the machine, helping it not have to work as hard and extending the life of the unit. If well taken care of, an ac unit can last 10+ years, and a replacement can be very expensive. Nobody likes expensive emergency costs that seemingly come out of nowhere, and a regular AC checkup can help avoid that for a long time.
Better Air Quality and Comfort
AC maintenance is the best way to ensure the air blowing through the vents in your home or office is clean and as well-filtered as possible. During the summer, your outside AC unit experiences humidity that encourages mold growth in the coils, ductwork and condensate pan. This can cause your vents to be blowing moldy air, which can make allergies and asthma worse and make you sick. Have you ever had a room that felt too cold during the winter or hot during the summer? By having service done on your heating and cooling system, it will produce and distribute warm and cool air more evenly as well. The most comforting thing about a heating or air conditioner tune-up is the peace of mind that your unit will be working when you and your family need it the most.
Why You Shouldn't Try to Do HVAC Maintenance Yourself
You may be thinking, "why don't I just do the maintenance myself?". It is a good question and a common mistake that too many people make. Just because you may find a YouTube video with a lot of views that can show you the "quick fix" to your heating or AC unit, it doesn't mean that it's a good idea. When you call to have maintenance done on your unit, you will have a professional coming to do the job. It takes training, licensing, and a specific skill set in order to work on heating and air conditioning equipment. HVAC maintenance is not an easy job, but it can be easy to mess up if not done correctly.
It may seem tempting to try and perform heating or air conditioning service yourself to save a few bucks. The small amount of money that you may save certainly isn't worth the consequences of what is likely to happen though when you do it yourself. If you damage part of the system, it may require a full replacement which can be a lot of money out of your pocket. It's also likely that you may miss the actual problem and work on something that didn't need to be fixed. Experimenting can cost you in the long run.
Don't put yourself at danger working on complex machinery. Touching the wrong wires to each other can have serious consequences. Air conditioner maintenance requires unique parts and tools that you most likely don't have laying around the house. HVAC maintenance staff work around the clock and know what they are doing. Save yourself time and money by having it done the right way.
St Louis HVAC Maintenance
Having been in the St. Louis area for over 60 years, Vitt Heating and Cooling has built a reputation for our quality of service. We've seen it all and look to find the solution that best fits your needs, not ours. Vitt is family owned and operated and services the entire St. Louis metro area. Give yourself peace of mind and call (314) 351-5580 for a heating and cooling tune-up.
Schedule Maintenance Service Today!