Geothermal Heating and Cooling Installation St Louis MO
Rising energy costs in the St Louis market continue to have St Louis homeowners seeking ways to lower their energy bills. Believe it or not, the solution to your problem might live right under your home. Geothermal heating and cooling is one of the best ways to lower your energy costs and instantly increase the value of your home. Geothermal Installation is a somewhat new and complex heating and cooling method which can cause some confusion and concerns for St Louis homeowners who are not familiar with how this technology works. The information below may help answer any questions you may have about Geothermal HVAC Installation and how it can benefit you and your home.
How Does Geothermal Heating and Cooling Work?
The temperature outside in St Louis can fluctuate over 110 degrees over the course of the year, but about ten feet under ground, the temperature remains consistently in the mid 50's. Geothermal heating systems harness the earth as a heat source using a ground to air heat pump, liquid heat exchange, and air delivery system.
3 Components of a Geothermal Heating System
Liquid Heat Exchange– A loop of pipes buried under the surface of the ground that contains water or a liquid antifreeze solution
Heat Pump– Above ground Pump that heats the air from the liquid heat exchange
Air Delivery System– Duct work that delivers the air throughout the home generated from the heat pump
How Does a Geothermal Ground Source Heat Pump System Heat and Cool My Home?
This revolutionary heating and cooling technology uses the temperature underground as a heat source in the Winter and heat disposal in the Summer. Because the temperature consistently stays in the 50's underground, it allows the ground source heat pump system to move hot air through the heat exchange in the Summer, dispersing the hot air out of the home while also moving it through a cooling process and replacing it with cooler air coming up from the ground. The ground to air heat pump will perform the opposite process from season to season.
Geothermal Advantages and Disadvantages in St Louis, MO
While Geothermal Is Widely Thought to be the Future of Heating and Cooling, There are Still Some Pros and Cons to Weigh When Considering Geothermal Heating for Your St Louis Home
Advantages of Geothermal Heating and Cooling
Energy Efficiency and Savings Advantages for Geothermal Systems
Geothermal heating systems on average can be three to six times more energy efficient than electric heating systems in the St Louis market.
The savings in energy bills for a 1500 square foot home in St Louis can be significant as these heating and cooling systems usually cost around $30 to $50 a month in energy bills
Safety, Maintenance and Convenience Advantages of Geothermal Heating and Cooling
Because the average geothermal system does not require a lot of equipment turning on and off throughout the St Louis hot and cold periods, the likelihood of failure or malfunction is much smaller compared to a traditional HVAC system.
GT heating systems have a much longer life expectancy than that of a gas or electric heating system. Pipe loops can occasionally come with up to a 50 year warranty to help back the guarantee on minimal maintenance.
Compared to gas powered furnaces and hot water heaters, geothermal heating systems present a much lower risk of carbon monoxide poisoning and equipment fires
Environmental Advantages of Installing a Geothermal Heating System in St Louis
By Using the Earth as a source of both heating and cooling, GT systems cause significantly less pollution to the environment than a gas or electric system. There is almost zero pollution generated by a geothermal system.
If you are receiving your electricity from a green source or green provider, you could be 100% emissions free by pairing clean electricity sources such as solar panels with a GT heating and cooling system.
Financial Advantages for St Louis Geothermal Systems
While many factors have to be weighed when trying to analyze the financial returns on these type of systems, most St Louis homeowners see a return on investment around the 10 year mark. Factors to consider when calculating include the size of your home, your access to natural gas, the energy rebates available to you at the time of installation.
Most installations in the United States are eligible for a $300 Federal Energy Tax Credit on top of the $2,000 tax credit already in place from the Emergency Economic Stabilization Act of 08.
Disadvantages of Geothermal Heating and Cooling
The main disadvantages of geothermal heating centers around the cost to consumers at the point of installation. While we at Vitt Heating and Cooling believe the pros outweigh the cons, our main focus is giving you the customer the facts which allow you to make the best decision for your home.
Cost Related Disadvantages of Geothermal HVAC in St Louis
GT systems are not cheap to install. The average installation in the St Louis market ranges anywhere from $20,000-$30,000 due to costs associated with digging and installing. However we always try to communicate to St Louis homeowners that this is an investment in your home. So while the cost upfront can seem like a lot of money, we like to consider it a long term investment.
Logistical Disadvantages of Geothermal Heating and Cooling for St Louis Homes
Horizontal loop systems are known to be the most effective and efficient residential GT heating systems. This can make it difficult to install on homes with smaller yards or within close proximity to other structures. Understanding the landscape of your property can be a make or break component when weighing the idea of a geothermal system for your home. One advantage of living in St Louis is that property size per home is much higher in this market than it is in other markets that have higher energy costs, so this is one of the few counter advantages St Louis has compared to other similar sized cities.
Geothermal Heat Pump Recommendations
Below are some of the ground to air heat pump systems we would recommend researching if you are considering a geothermal system in St Louis.
Bosch Geothermal Greensource CDi Series SM Model
Bosch remains the leader in ground to air innovation
ENERGY STAR certified
10 year warranty
28.0 to 37.0 EER GWHP
Closed Cell Insulation
Scroll compressor technology
Variable speed ECM
Carrier Infinity® Geothermal Heat Pump
Carrier Infinity® heat pumps remains consistently excellent with the rest of their HVAC solutions
ENERGY STAR certified
Two-Stage Compressor
Up to 30 EER Cooling Efficiency
Up to 4.6 COP Heating Efficiency
Variable Speed Blower Motor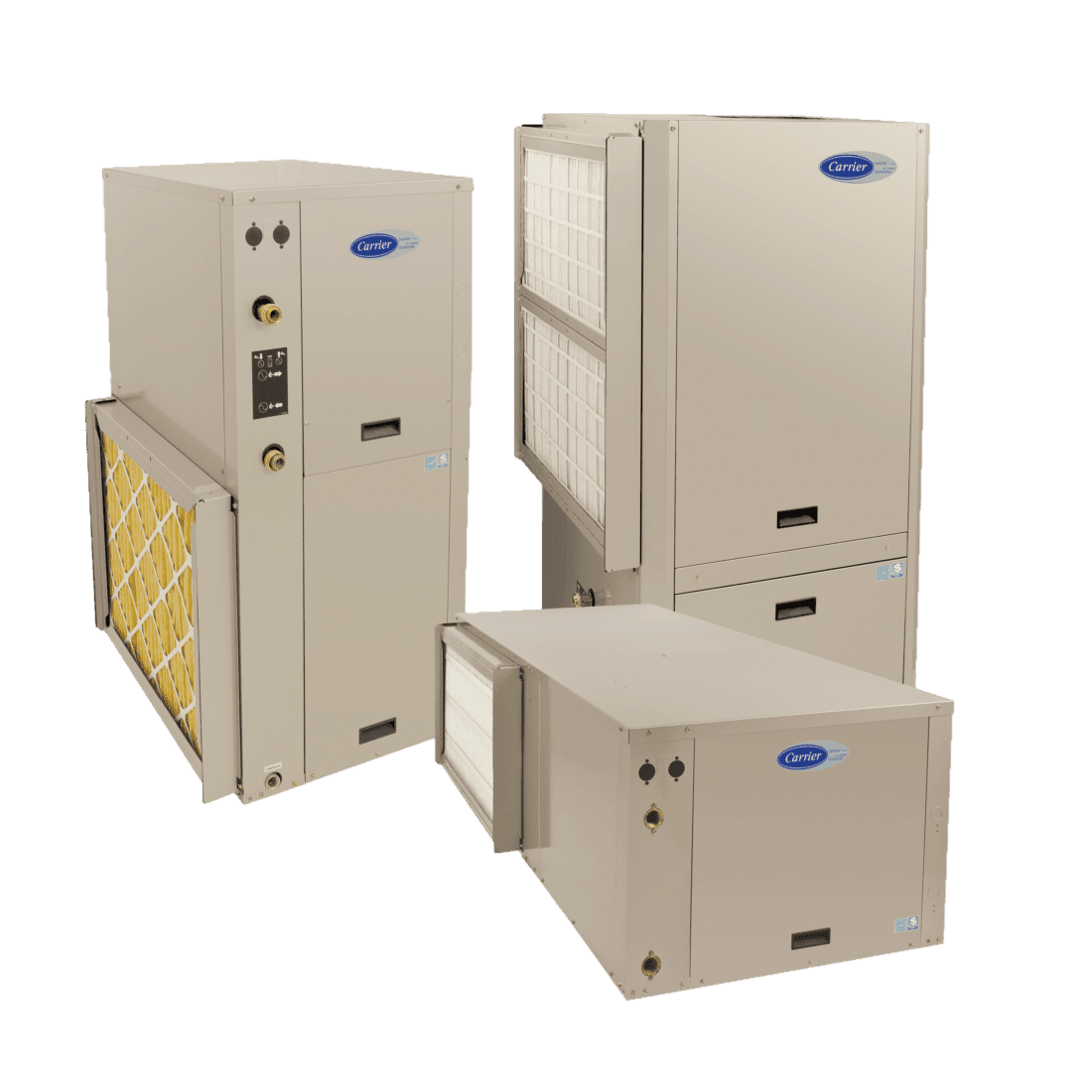 Schedule Your Free Geothermal Installation Estimate Today!