Formed in 1902 by Willis Carrier, Carrier United technologies has been a leader in the heating, air conditioning, and refrigeration industries. Vitt Heating and Cooling provides service and installations for all Carrier heating and cooling products in the St Louis area. To schedule a service call or free estimate on a new Carrier heating and air conditioning system, call our office at (314) 351-5580.
Vitt Technicians: Experts In Carrier St Louis Repair
St Louis Is Home to Thousands of Carrier HVAC Products. If Your Carrier AC Unit or Carrier Furnace Needs Service, Vitt Is Ready Help.
Vitt Heating and Cooling has been servicing Carrier HVAC equipment in St Louis for over seven decades. Whether your Carrier gas furnace is having problems with the inducer motor or your bad TXV's on your Carrier air conditioner, Vitt can help. There is no residential job too big or too small when it comes to servicing Carrier furnaces and Carrier air conditioners in St Louis. If you currently experiencing problems with your Carrier HVAC equipment in St Louis, make the call to Vitt Heating & Cooling today at (314) 351-5580.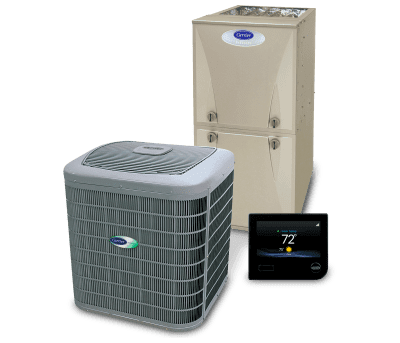 Carrier HVAC Products Vitt Heating & Cooling Can Service or Install In St Louis
Air Conditioners
Gas Furnaces
Oil Furnaces
Boilers
Fan Coils
Heat Pumps
Geothermal Heat Pumps
Ductless HVAC Systems
Troubleshoot a Carrier Air Conditioner
Carrier is known to be a reliable AC and Furnace brand, but just like every other manufacturer, problems can occur from time to time. Taking a variety of troubleshooting steps can help you as the homeowner access and narrow the possibilities on what could be causing your equipment problems.
Make sure the main power switch on your AC unit is in the on position.
Reset the circuit breaker
Check to see if there is buildup in your filter. You should be changing this monthly.
Check to see if the return air grilles are dirty or blocked with dust.
If your AC unit is still experiencing problems, call the experts at Vitt Heating & Cooling.
Carrier Air Conditioner Installation
Choosing the right Carrier air conditioning system can be a tough task, and can require many different factors and preferences. Working with the Install Professionals at Vitt Heating & Cooling can help take the pressure off hard decisions. Vitt Techs are trained to ask the right questions to make sure your AC needs are met. If you are in the market for a Carrier air conditioner installation, call Vitt Heating and Cooling at (314) 351-5580.
Carrier Infinity 21 Air Conditioner
Up to 21 SEER Efficiency
2 Stage Compression
ENERGY STAR

Qualified
Infinity Control (Must have matching blower)
Quiet Sound: Low As 65 Decibels
Weather Armour Ultra Protection
Puron Refrigerant (eco friendly)
10 Year Parts Limited Warranty
Carrier Infinity 17 Air Conditioner
Up to 17 SEER Efficiency
2 Stage Compression
Quiet Sound: Low As 67 Decibels
Weather Armor Ultra Protection
Puron Refrigerant (eco friendly)
10 Year Parts Limited Warranty
Carrier Infinity 16 Air Conditioner
Up to 16 SEER Efficiency
Single Stage Compression
Quiet Sound: Low as 66 Decibels
Weather Armor Ultra Protection
Puron Refrigerant (eco friendly)
10 Year Parts Limited Warranty
Schedule HVAC Services For Carrier Heating and Cooling Systems