The Trusted Experts for Air Duct Cleaning in St Louis
Since 1954, the trained professionals at Vitt Heating and Cooling have earned a reputation as the city's best heating and cooling contractor. But did you know that we're also the trusted experts when it comes to air duct cleaning in St Louis? It's true! And as you'd expect, we have the happy customers and testimonials to back it up. Continue reading to discover the key reasons why it might be wise to get an air duct cleaning, some cleaning-related "TLC" now rather than later -- and why Vitt Heating and Air Conditioning is the right company to call when you need expertise, reliability, affordability, service and quality.
Professional Air Duct Cleaning Services
Have you ever replaced the air filter on your heating or cooling system and been surprised – maybe even a little shocked -- at how dirty it is? Believe it or not, but that layer of dust and grime is evidence that the air we breathe every day is full of invisible impurities. In fact, according to ASHRAE, most commercially-available fiberglass filters only block 7% of dirt, dust and pollen. Vitt provides top notch professional air duct cleaning services to rid your commercial or residential property from indoor contaminants.
Is Air Conditioning Duct Cleaning Important?
If you think that your indoor air quality is acceptable "as-is" because you don't see or smell anything wrong, here are some eye-opening statistics to keep in mind:
Indoor air can be 70% more polluted than outdoor air (source: EPA)
A dirt/dust build up of only .42nd of an inch on a heating or cooling coil can lead to a reduction of 21% in efficiency (source: EPA)
Half of illnesses can be triggered or worsened by poor indoor air quality (source: American College of Allergists)
While all family members, guests and even pets are at-risk due to polluted indoor air, children and the elderly are the most vulnerable (source: US Department of Consumer Affairs)
50% of all illnesses are either caused or aggravated by polluted indoor air (American College of Allergist)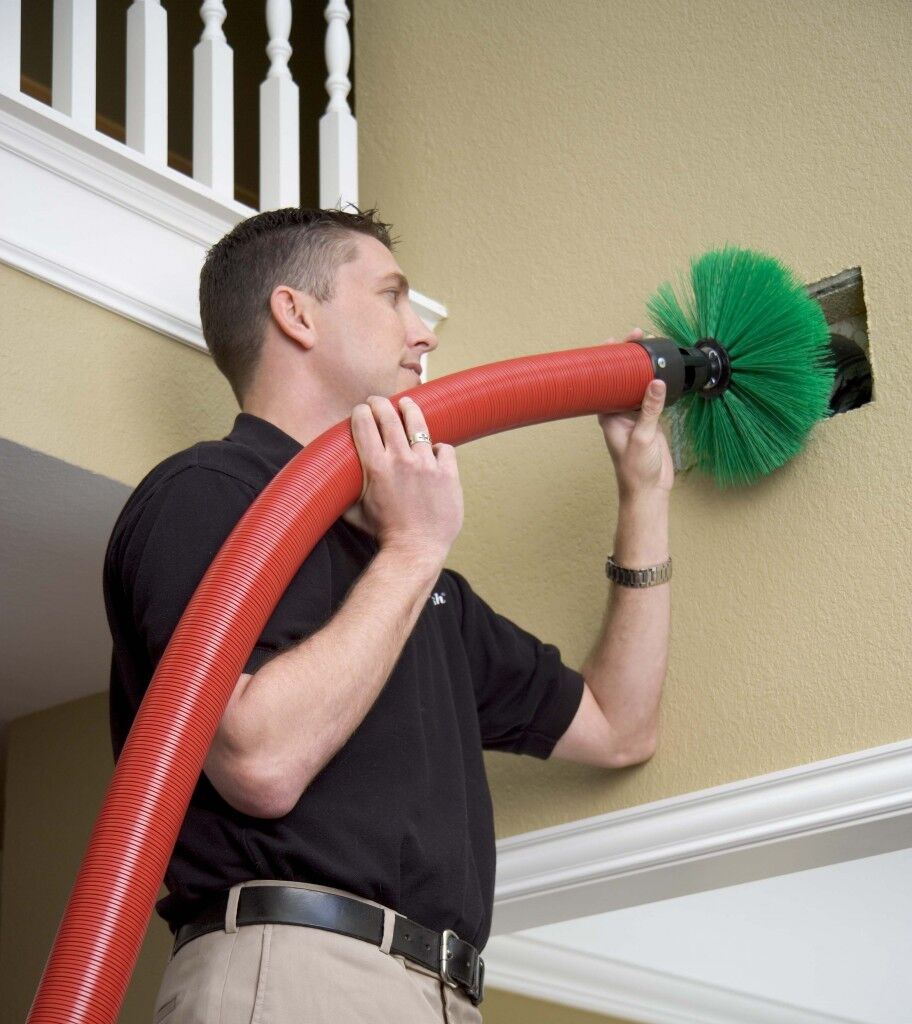 Why Choose Vitt Heating and Cooling for Air Duct Cleaning in St Louis?
As a second and third-generation family-run business, the team at Vitt Heating and Cooling is committed to ensuring that each of our valued customers is treated fairly and respectfully, and receives unbeatable service and value.
Steps to Take When Working With Air Duct Cleaning Companies
If you decide to have your heating and cooling system cleaned, it important to make sure the service provider agrees to clean all components of the system and is qualified to do so.
Open access ports or doors to allow the entire system to be cleaned and inspected.
Inspect the system before cleaning to be sure that there are no asbestos-containing materials (e.g., insulation, register boots, etc.) in the heating and cooling system. Asbestos-containing materials require specialized procedures and should not be disturbed or removed except by specially trained and equipped contractors.
Use vacuum equipment that exhausts particles outside of the home or use only high-efficiency particle air (HEPA) vacuuming equipment if the vacuum exhausts inside the home.
Protect carpet and household furnishings during cleaning.
Use well-controlled brushing of duct surfaces in conjunction with contact vacuum cleaning to dislodge dust and other particles.
Use only soft-bristled brushes for fiberglass duct board and sheet metal ducts internally lined with fiberglass. (Although flex duct can also be cleaned using soft-bristled brushes, it can be more economical to simply replace accessible flex duct.)
Take care to protect the duct work, including sealing and re-insulating any access holes the service provider may have made or used so they are airtight.
Follow NADCA's standards for air duct cleaning and NAIMA's recommended practice for ducts containing fiber glass lining or constructed of fiber glass duct board.
EPA Advice On AC Duct Cleaning
The EPA offers consumers advice about when to have your air ducts cleaned. That's why when you choose us as your trusted expert for Air Duct Cleaning in St. Louis, we adhere fully to the standards established by the National Air Duct Cleaners Association (NADCA) for air duct cleaning, as well as the guidelines suggested by the Environmental Protection Agency (EPA) in their advisory "What to Expect from an Air Duct Cleaning Service Provider." Specifically, when we visit your home, you can expect us to:
Open all access ports or doors, so that the entire system can be thoroughly inspected and cleaned. If there is a "root cause" that is contributing to an air quality problem in your home, you can be assured that we'll find it!
Thoroughly inspect the system prior to cleaning, to ensure that there are no asbestos-containing materials in the heating and cooling system.
Use only high-efficiency particle air (HEPA) vacuuming equipment to ensure that no particles are exhausted inside your home.
Ensure that all of your furniture and carpets are protected, and that our workers keep your home absolutely spotless.
Carefully and meticulously brush all surfaces, which together with contact vacuum cleaning ensures that we loosen and capture all dust and other particles.
Protect all duct work by sealing and re-insulating any access holes that we may need to make, or that we discover as part of our inspection (i.e. access holes made by previous air duct cleaning companies that were not made air tight).
Schedule Free Air Duct Cleaning Cost Estimate Today!