Home Air Conditioner Maintenance
Routine air conditioner maintenance is vital to the performance and longevity of your heating and cooling system. Many repairs we perform on AC units every Summer can often be prevented by annual maintenance each year. Vitt offers a variety of different air conditioner maintenance packages designed to keep your AC system running at peak performance each Summer. Schedule an AC maintenance check by calling our office at (314) 351-5580.
It is Never Too Late for an Air Conditioner Tune Up
If you fall into the category of homeowners who opted to not get an annual air conditioner tune up, we recommend calling a professional HVAC Contractor to assess your system. It is never too late in the season to have a professional air conditioner repairman give you his diagnosis. In a perfect world, it is optimal to have an older system looked at 2-3 times a year. New maintenance or repairs can appear one to two months into a season due to the added stress that has been placed on the unit.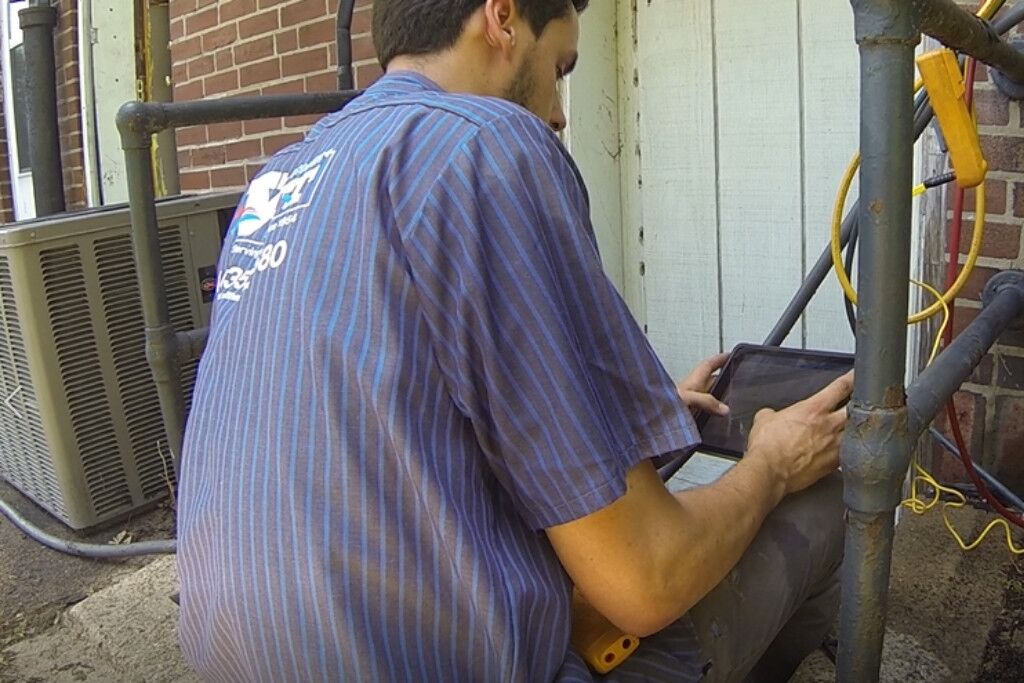 Common Problems that an Air Conditioner Can Have when Faced with Extreme Temperatures
Refrigerant Leaks
Electrical Failure
Sensor Issues
Routine Air Conditioner Maintenance to Prevent Potential AC Repairs
Preventative maintenance on your air conditioner is hands down the most effective way to prolong the life of your AC system, but there are some other things you can do yourself that can increase the performance of your air conditioner as it is tested with one hundred degree temperatures.
Keep an Eye on the Blower Filter
Depending on your HVAC system, most filters should be changed twice a year. If you have had a tune up in the Spring, there is a good chance your filter was replaced. However, if your furnace is located in a part of your home that dust tends to gather, it may be wise to change your filter up to five times a year. When changing your filter, make sure you are choosing the correct airflow rating appropriate to your system. Choosing the wrong filter can result in reduced airflow which can lead to your indoor coil freezing.
Make Sure Your Air Conditioner Unit is Level
Your air conditioner slab can settle over time resulting in your air conditioner sitting on an uneven plane. Every so often, it is a good idea to use a level and make sure your air conditioner is fairly balanced. You want to keep in mind that if you have a heat pump system, it may be designed to slope away from your home's foundation due to prevent run-off during the Winter months.
Keep the Area Around Your Air Conditioner Clean
As the Temperature outside increases, so can the amount of leaves and branches around your air conditioner. You want to make sure the area around your AC unit is always kept clean so that debris is not falling within the unit, decreasing the air flow.
The "One More Year" Philosophy is Not Efficient When it Comes to Your HVAC System
We hear it from customers every year. After assessing a customer's AC system and giving them an honest recommendation, the customer will seldom tell us they would like to get one more year out of their unit. At Vitt, we understand the upfront cost of a new HVAC system installation can be overwhelming, but over time, financing a new system can save you money in the short term and the long term. With all new air conditioning systems meeting higher efficiency ratings (SEER Ratings), and most containing variable speed blower motors, a new air conditioner can drastically reduce the amount of energy it takes to cool your home. Combine these factors with the increase in cost for r22 freon along with the current rebates provided by manufacturers such as Carrier® and you have the opportunity to take advantage of great incentives that can make a lot of sense. At Vitt Heating & Cooling, we also offer HVAC financing. If you have any questions regarding your HVAC system and how we can help increase the performance of your air conditioner throughout the Summer months, call us today at our office. The phone number is (314) 351-5580.
Schedule Air Conditioner Maintenance Today